When we decided on taking a long trip, we knew we wanted to take the opportunity to minimize our belongings.
It's incredible what you can build up 2.5 years time. We live in a 3 bedroom house (1150sf + basement) which as it turns out, is way too big for us as we just accumulate unnecessary things and are in a perpetual cleaning state (perhaps that's because we both work from home?). Even after living in an apartment in NYC, we still brought back way too much stuff with us. Why?
We have so many emotional attachments to items. Some meaningful attachments, some out of guilt, and some old that are no longer giving you value. We're all part hoarders as we don't want to be wasteful (typically a great quality), but at the same time, all of this stuff makes for mental clutter. Every time you see one of these items, it takes up small mental space and energy. We leave it there because it's easier than taking the time to filter. The irony is that you'll create countless hours by decluttering as you'll never have to waist your time thinking about the items again. Stop hiding it in the closet or basement. Get rid of it.
So how did we do it/how are we doing it?
We read the book 'The Life-Changing Magic of Tidying Up'. The book seems to be quite a hit right now and for good reason. The whole premise of the book is to find out which items truly 'spark joy' in order to declutter your home. The writer, Marie Condo, is really cute and quirky which makes it a fun read.
We've done it in rounds. I've gone through my closet about a dozen times in the last couple months. Every time I find new items to donate.
If I even have an inkling of 'do I need/want this,' I donate it.
Getting over the guilt: The 'my friend/family member gave this to me,' etc is very hard to get over AT FIRST. But just like most things, once you do it once, you'll feel better. Just say 'I've gotten my use from this for X long' and move on. What's great is that you'll only feel bad about it for a small moment until you realize that you're making way for new, more relevant things to enter in your life (not just material items, but activities, etc.)
If all else fails, remember, you're going to have to move this stuff multiple times! No one likes moving items that you know you'll never use, let alone something that you will feel guilty about every time you look at it.
Something else I'd recommend is to spend the money on stackable bins (AKA the bins queen pug, Rhea, is sitting on). This not only makes packing easier, but it also feels like the items you're packing are of higher value because you're taking special care of them. Instead of packing a ton, you're spending the time to do it right on the special few.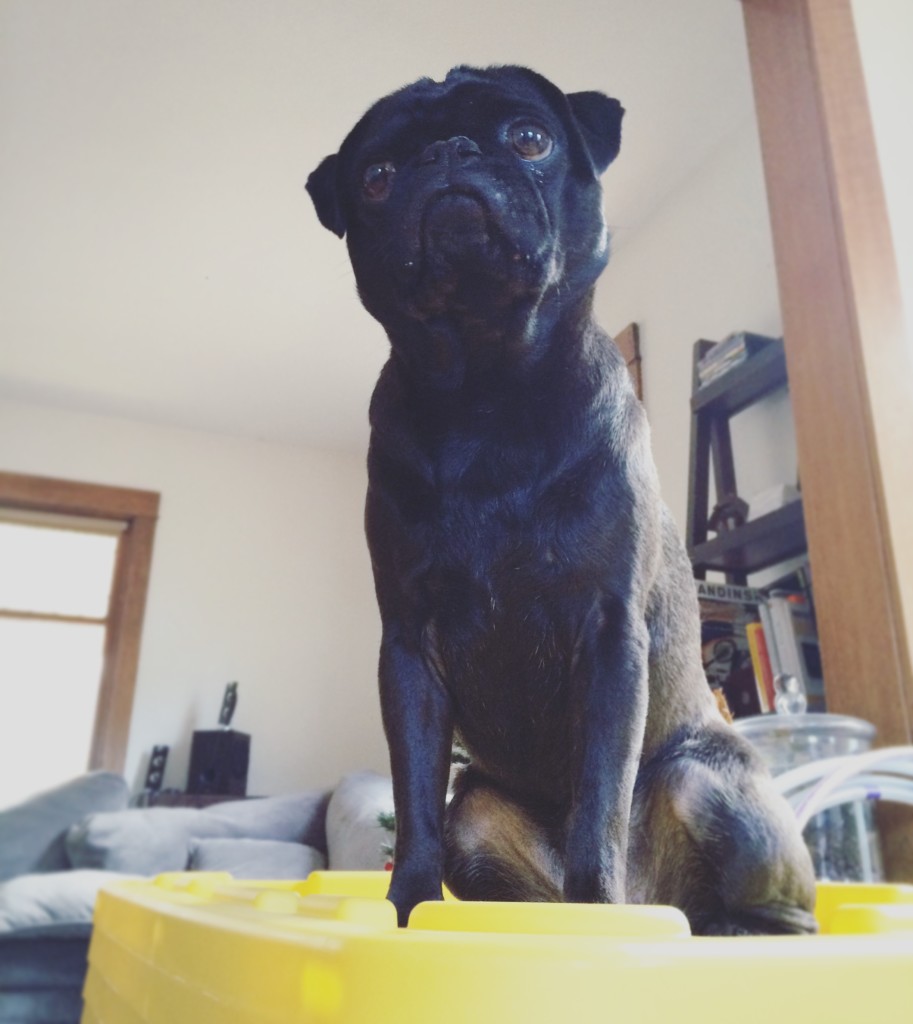 We're currently about half way there and let me tell you, it feels great. Regardless of whether you're moving or traveling or staying where you are, I'd recommend taking the time to really question what items really make you happy on a daily basis and what items are truly special to pass on/keep in the family. I wish that we would have done this so long ago as the house already feels lighter and happier.
We're going to have suuuuuper limited space in our tiny jellybean trailer and truck so we have to be smart about what we pack. It's definitely going to be interesting (and challenging) to see what we actually can fit. I'll be sure to write a post on that in January.
Next week I'll be writing about my favorite places and features about Madison.