Wow, where has time gone?! I've been hyper focused on my Kickstarter the last several months and now that I've reached my goal (woohoo!), I can get back to packing and planning our trip.
As promised, here's a map of where we're going (in electric color of course):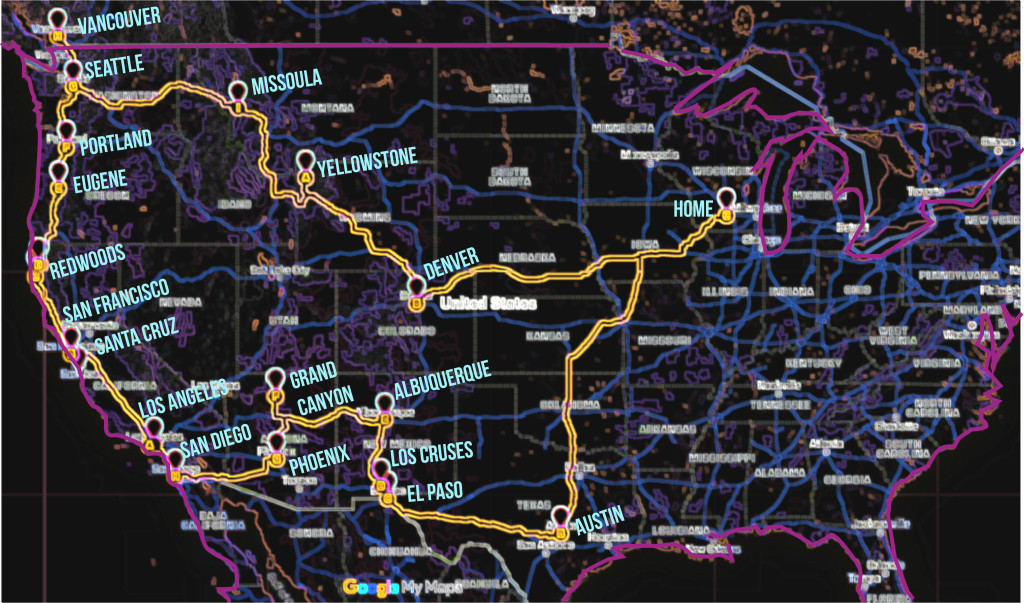 The Itinerary:
Austin, TX:
January (Whenever we rent our house out. Btw, if you're looking for a place in Madison, send us a message!)
El Paso / Los Cruses: Mid February
Albuquerque: Late February
Grand Canyon: Late February
Phoenix: Late February
San Diego: Early March
Los Angeles:
Late February – Early March
Santa Barbra: Early March
Santa Cruz/San Francisco: Mid March – Early April
Redwoods: Mid April
Eugene: Late April
Bend: Late April
Portland: May
Seattle: Early June
Vancouver: Early June
Missoula: Mid June
Yellowstone: Mid June
Denver:
Mid – Late June
HOME (Madison): July
The whole point of this trip is to be able to explore freely so this is definitely a baseline. Things change so depending on how we're liking living in an RV, or a certain place, we may change our map a little. We titled this blog 'BTWN Places' for a reason. 😉
Anywhere we're forgetting or could recommend?